Match Report
16(Sun) Sep.
Kento MOMOTA(JPN) 2 (21-14, 21-11) 0 Khosit PHETPRADAB(THA)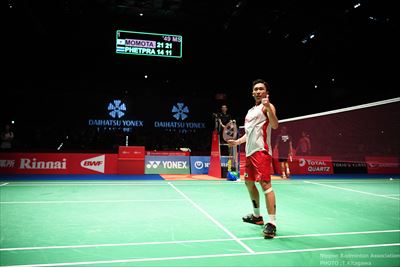 The winner of the rival match Kento Momota in SF with Viktor Axelsen(DEN) and the dark horse Khosit Phetpradab who dominated Chinese strong players Shi Yu Chi and Chen Long were tried the Yonex Japan Open title for the first time.
The game began with Momota's steep smash from round rear, and the audience broke out into cheers. The early stage, Momota took the rallies and tried to make Phetpradab errors. Phetpradab flexibly received Momota's smashes and positively launched shuttles with jumping smashes 4-4. Unfortunately for Phetpradab, the audience cheered Momota every time when Phetpradab got the points. However, Phetpradab showed his great defence and followed Momota 8-8. Right before the interval, Phetpradab made unforced errors consecutively, and he was widened the difference in points. On the contrary, Momota speeded up, he showed powerful crossfire and he closed the game with 5 consecutive points.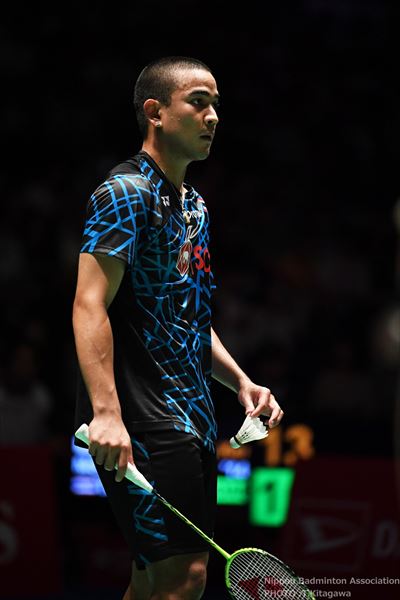 In the 2nd game, Phetpradab recovered his condition, and show his patient defense. Surprisingly, he received Momota's decisive shots a few times. In addition, we could see the scenes Phetpradab dominated Momota with net shots. Keeping his calm, Momota kept on attacking with controlled and strong smashes. Finally, he led the game 11-8. In the later half, Phetpradab seemed to be tired and Momota earned the points one after the other. He kept placed the shuttle to make Phetpradab move with hard footwork and on attacking till the end of the game. Wonderfully, he got 7consecutive points and he crowned the champion of Daihatsu Yonex Japan Open for the first time.
In the winning interview, Momota expressed his happiness with smile. "I've longed for this tournament since I was a kid, so I'm glad to be a champion. It was so meaningful for me to win here the same court 2020 Olympic, but I never view the 2020 and I'll concentrate on next matches one by one."
---
Carolina Marin(ESP) 2 (21-19,17-21,21-11) 1 Nozomi Okuhara(JPN)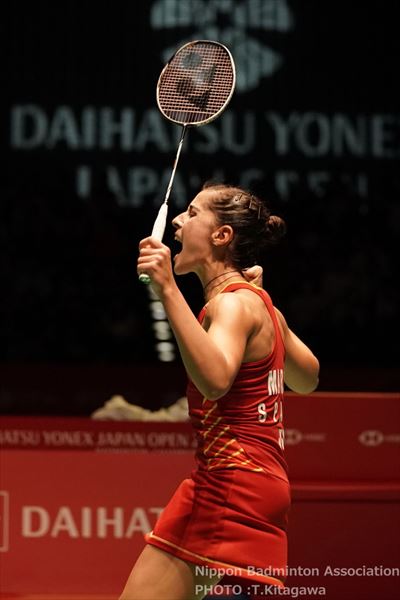 Japanese ace, Okuhara challenged Marin who is Rio Olympics gold medalist and the winner of World Championships 2018 at the final of Daihatsu Yonex Japan Open 2018. They had played each other about 1 year ago, and Okuhara has more wins than losses for Marin.
The first game began see-sawed. Both players seemed to find out how to build the point. Okuhara performed patiently and speedy, on the other hand, Marin played with powerfulness and accuracy. Okuhara showed more focusing on the match than Marin and won the rallies every important point. She built the points until scored 19-16. Suddenly, Marin showed her guts, and turned over the score at once. She earned 5 consecutive points with powerful smashes and decisive shots, and won the first game by 21-19.
The second game proceeded same as the first game. They scored each other and reached 17-16 leading by Marin. The momentum was gained by Okuhara, but Marin lose her focus and made unforced errors. Okuhara successed to earn 5 consecutive points and closed the second game by 21-17.
Marin completely controlled the rallies in the final game. Marin's speed and power didn't turn down. Okuhara was forced to be defensive because of Marin's unstoppable attacks. Okuhara tried to receive patiently, but Marin put Okuhara into a corner with accurate and steep smashes. She closed the match by 21-11, and Marin achieved to be a winner two times in a row.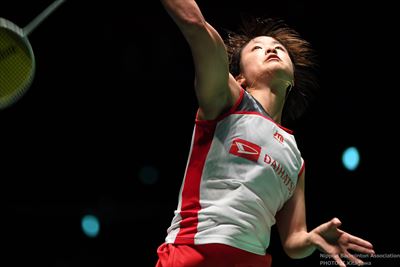 At the press interview, Marin said, "I am happy very much to be a winner at the arena where held Tokyo Olympics 2020."
Okuhara told outlook, "I think there are a lot of thing to learn from this final match. I could recognize what I need to improve."
---
Marcus Fernaldi Gideon & Kevin Sanjaya Sukamuljo(INA) 2 (21-11,21-13) 0 Li Jinhui & Liu Yuchen(CHN)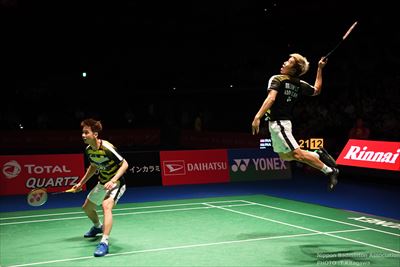 The winner of Daihatsu Yonex Japan Open2017 and Asian games 2018, WR.1 Indonesian pair, Marcus/Kevin and the champion of World Championships 2018, WR.2 Chinese pair, Li/Liu meet at the final of Daihatsu Yonex Japan Open 2018.
At the beginning, both pairs made unforced errors. Indonesian pair got their pace first. They attacked aggressively with fast and low shots, on the contrary, Chinese pair couldn't be far from easy to adjust rally speed, so Li/Liu played more defensive. The spectator was very excited for Indonesian's aggressive attacks and shout out every time Indonesian hit the smashes. After half game interval leading by Indonesian 11-6, Marcus/Kevin earned 5 consecutive point to 16-6. Chinese pair gradually caught up the rally speed, however, Indonesian never let opponent win the rally easily. Marcus/Kevin won the first game by 21-11.
Until the middle of the second game, Li/Liu played better than first game, and took a lead by 8-6. However, the pair built the point by 11 first was Indonesian pair. Chinese pair fought back against Indonesian's low and fast rallies. Li/Liu wanted to take the initiative of rallies, but they made unforced errors themselves. On the other hand, Marcus/Kevin showed spectators the racket change performance during rally. They got match point opportunities by trick drop shot. Indonesian pair closed the match displaying the various and fierce attack shots by 21-13.
After the match Marcus/Kevin said, "We are happy very much to be a winner in our sponsor's, YONEX, country. We will do our best for every match."
---
Yuki Fukushima & Sayaka Hirota(JPN) 2(21-15, 21-12)0 Chen Qingchen & Jia Yifan(CHN)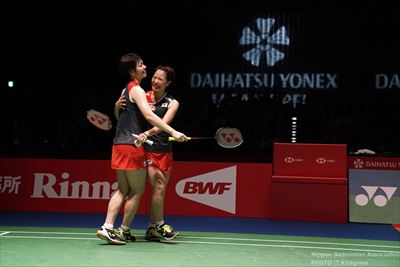 Women's doubles final competed between WR.1 Japanese pair, Fukushima/Hirota and WR.2 Chinese pair, Chen/Jia. Chen/Jia defeated Fukushima/Hirota last match at Asia games 2018.
From the beginning, both pairs showed their strength of offense and defense that had beat rivals through their career, and it was not easy for them to finish the rallies even if they played aggressively. At 14-13 lead by china, Jia hit powerful smashes without rest, but the judge called out for Jia's shot. Chinses pair required challenge for call out immediately. When the challenge was successful, Chen gave a shout of guts for winning. On the other hand, Japanese pair played calmly following their strategy. Fukushima/ Hirota had Chinese pair play at rear court using attacking clear shots. Their strategy worked well very much, and then Japanese pair successfully won the first game with 8 consecutive points from 13-15 to 21-15.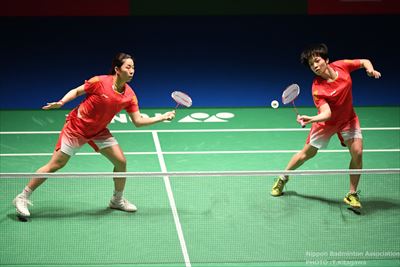 Spectator could watch the perfect combination by Fukushima/Hirota in the second game. Fukushima's decisive smashes made opponents received difficult. Hirota executed net kill shots from front court. Japanese pair showed various option to decide the rallies. Chen/Jia couldn't find the way to break the situation through the game. Japanese pair earned points constantly and fully focused on the game. Finally, Fukushima/Hirota became the winner of Daihatsu Yonex Japan Open 2018.
After the match, Fukushima said, "The match was very long, but I was relieved to win the final. Spectator's support gave us the energy to go on." Hirota said," I am very happy to defeat Chinese pair because we lose last match against Chen/Jia. We will meet at other tournaments, so we try our best to win for Chinese pair from now on."
Chen/Jia told us, "We could play our best as well as Japanese pair, but they played more steadily through the match than us."
---
ZHENG Siwei & HUANG Yaqiong (CHN) 2 (21-19,21-8) 0 WANG Yilyu & HUANG Dongping (CHN)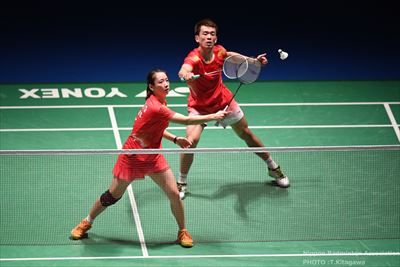 Mix doubles's final was the match between Chinese pairs. ZHENG & HUANG's world ranking is No.1 and WANG & HUANG's world ranking is No.2 and also winner of Daihatsu Yonex Japan Open 2017.
In the first game, Zheng/Huang showed controlled shots and built the points. Wang/Huang tried to outdo the opponents. Dongping attacked back with fast and accurate shots. Zheng/Huang reached half game interval firstly by 11-9. Wang/ Huang got 2 consecutive points and caught up the score right after half game interval. At scored 17-16, Zheng/Huang made audience excited showing their patient defense against Wang/Huang's aggressive attacks. Dongping executed a poor-quality net shot scored 19-20, then Zheng didn't miss the chance to win the first game.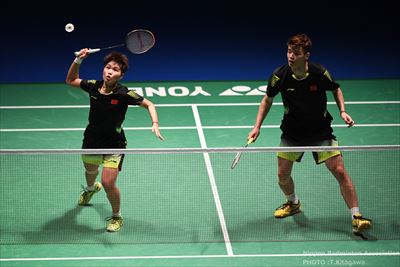 Zheng/Huang took the initiative of second game from the beginning. Wang/Huang tried to fight back and tie the score, but their effort didn't pay off through the match. Zheng/Huang earned 9 consecutive points from 9-7 to 18-7, and they pulled away Wang/Huang at once. Finally, Zheng/Huang became the winner brightly.
After the match, Wang/Huang said, "The first game was very close, but we couldn't win it. We have many chances, so we will show our best in the next match." On the other hand, Zheng/Huang said, "We played well in today's match. We will show our best in China Open next week." We can't help expecting their performances next tournament.
---