Marcus Fernaldi Gideon & Kevin Sanjaya Sukamuljo (INA) 2 (21-15, 21-15) 0 Vldimir Ivanov & Ivan Sozonov (DEN)
In the first game, the game became seesaw game. They earned points one by one until 7-7. Although, Indonesian pair remained calm. Vldimir / Ivan pair took advantage of their height and made some steep smashes, however Marcus / Kevin constantly returned and controlled the shuttle. Marcus / Kevin didn't allow to be taken the lead by Denmark pair and closed the set with 21-15.
The second game developed similarly. Marcus / Kevin completely controlled the rallies by using accurate swift attacks. Vldimir / Ivan showed persistent defense, but never dominate the court from the opponent and Indonesian pair closed the game by 21-15.
---
Mohammad Ahsan & Hendra Setiawan(INA) 2 (21-17,20-22, 21-17) 1 Hiroyuki Endo & Yuta Watanabe(JPN)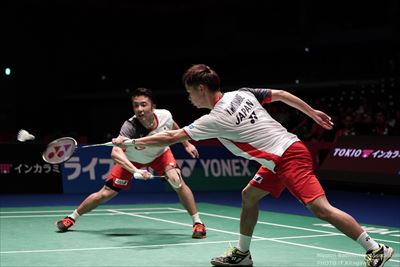 Endo who's an expert player in Japan & Watanabe who's the youngest player in Japanese male team(JPN), 14th WBF ranked, engaged Mohammad Ahsan & Hendra Setiawan(INA) ,17th WBF ranked, who's winner in Singapore Open in July at home.
The 1st game proceeded close and tight. It was full of short rally, they each other got easy mistake around services. It was even until 18-18 however, Ahsan & Setiawan finalized the game with 3 consecutive points.
The 2nd game also proceeded close. Indonesia pair attacked aggressively by using powerful smash. Endo & Watanabe defended patiently and excited audience. Endo & Watanabe watching for chances to attack, pushing drive in the space, they sometimes switch to offence and got point. In last stage, Endo& Watanabe were turned the table and they gave the match point to Ahsan & Setiawan 19-20. However, Endo showed amazing dive, back to even then, they achieved the game by 3 consecutive points with patient.
In the final game, accelerated their pace, Endo & Watanabe played aggressively. They led the game 4- until the interval. Right after the interval, however, Ahsan & Setiawan also accelerated their pace, attacked aggressively and caught up Endo & Watanabe 15-15. After that, Endo & Watanabe couldn't respond well and show their patient defense. In the end, Ahsan & Setiawan finished the game by 21-17.
Endo said "It was the regretful match. We need to improve receive and beginning of rallies.". Watanabe said "We could show our patience. We want to get hungry about win.
---
Tang Jinhua & Yu Xiaohan (CHN) 2 (21-17, 21-10) 0 Shiho Tanaka & Koharu Yonemoto (JPN)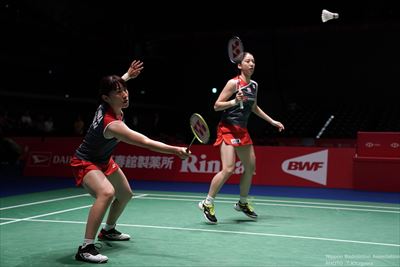 This was the first match of Tanaka / Yonemoto and Tang / Yu. The crowd paid attention to the match of the Japanese pair vs the sudden rising pair.
In the first game, both team did an equal match until 5-5, but after that Chinese pair attacked with powerful smash and got 7 consecutive points 12-5.Tanaka / Yonemoto pair tried to earn the points. They lead Chinese into error by sharp smash and slow drop shot. From 10-18, Japanese got 5 consecutive points, but after all Tang / Yu pair won the first game with 21-17.
In the second game, Tanaka / Yonemoto couldn't rip out the pace from the opponent because of their aggressive attack. From 16-10, Chinese got 5 consecutive points, and finally Japanese ended the second game with 11 points behind 21-10.
After the match, Tanaka and Yonemoto said "We are clever at varying, but this time we couldn't avoid their powerful cross shot. We are not satisfied with our play today."
---
Matsumoto Mayu & Nagahara Wakana (JPN) 2 (21-9, 21-12) 0 Bolotova Ekaterina & Davletova Alina (RUS)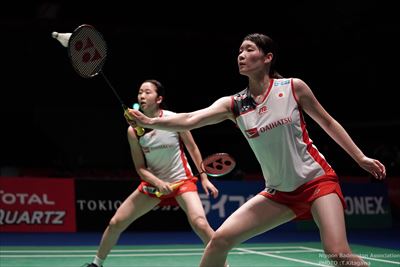 Japanese pair quickly won and made their way to the 2nd round of the qualification.
1st game, the Japanese pair which is the world champion of this year took control of the match by using various kind of shots. Russian pair couldn't stop Nagahara's powerful and steep attacking shots from high point and lost the match 21-9 without leading even once.
As the 2nd game started, the Russian pair accelerated their pace. They tried hard to make chance with their quick drop shots. However, Matsumoto and Nagahara managed to keep their play and coped with all shots. Thus, ending with the Japanese winning by 21-12.